Automatic door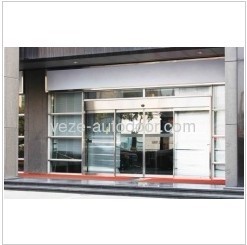 Automatic door ≠ glass door
Actually, automatic door can be made into all kinds of doors as we see in the daily life, just the current application of automatic doors is not very extensive, it is mainly used in the entrance of the building, which habitually uses glass door panel, so people mistakenly believe that automatic door is glass door.
In general, automatic door microwave sensor is common lintel-mounted sensor, but if your automatic door is installed on the ceiling, it will be perfect to install one pair of ceiling-mounted sensors accordingly. If it is a five-star hotel, choosing a pair of wide-range, high-sensitivity sensors matched with a safety beam sensor, not only provides customers with attentive service, but also ensures foolproof security. If the automatic door is close to the pavement (bank), choosing a narrow-range infrared sensor can completely avoid wrong opening caused by the passing pedestrians, so the selection of sensor has a great influence on the performance of automatic door.
Customers should choose professional company with great strength to install automatic door, otherwise it might be penny wise and pound foolish.
Customers must choose professional installation company with actual strength and rich experience for the construction, because automatic door installation has the characteristics of "easy to learn but difficult to master". Without extensive installation experience, there will be various problems during automatic door operation, it is usually difficult to eliminate, and also difficult to guarantee the perfect after-sales service.
The problem that cannot be ignored
The performance of the automatic door is affected by the operating environment. In the process of running, it is hard to avoid any problem which needs to be adjusted. In the course of daily use, there is often such a situation: no handling of small glitch turns into big fault, no handling of big fault turns into large maintenance project, the cost comes from small to big, which results in the paralysis of the entire automatic door system
---